Imagine playing your piano, in your own home, with a group of like-minded piano players and an instructor? Imagine doing this twice a month!
Welcome to Piano JAM 🎵 🎹
In addition to live/coached JAMs, this is your personal piano bundle. It's here to be your practice buddy for inspiration and comfort anytime you want!
The All Access Piano Jam gives you access to all the courses (over 30 and building), all the JAM videos and all the pieces, warm-ups, technique and practice tips at your fingertips.
When you are surrounded by great music and inspiration it can help but rub off. Sounds like a dream? Let's JAM!
What is ALL ACCESS JAM?
This experience combines the wonderful world of Online Courses and Live Online Jam Sessions into a package called the All Access Piano JAM.
Your pass includes access to:
ALL the courses up on Play Piano Chords Today at Teachable (over 20 and building) and any NEW courses posted... PLUS
Two 1-hour, coached, Live Jam Sessions a month... PLUS
A posted recording of the Jam Session to use as a practice buddy (or if you miss a session)...PLUS
A monthly musical challenge
A Live Jam Session can be a new piece, a popular music topic, apps to help you practice, a guest artist and possibilities not yet thought of! We send you a Zoom link and any worksheets or downloads relevant to the Jam session.
At the Zoom session, we meet as a group at our pianos with open discussions and lots of piano playing.
The dream is to inspire you to play more, be curious, ask and answer questions and move you along your musical path.
Some of you have piano teachers and some of you don't. All levels are welcome. The classes are presented like a yoga class, each musical task is demonstrated at an easier, intermediate and more advanced level.
We hope to see you at the JAM!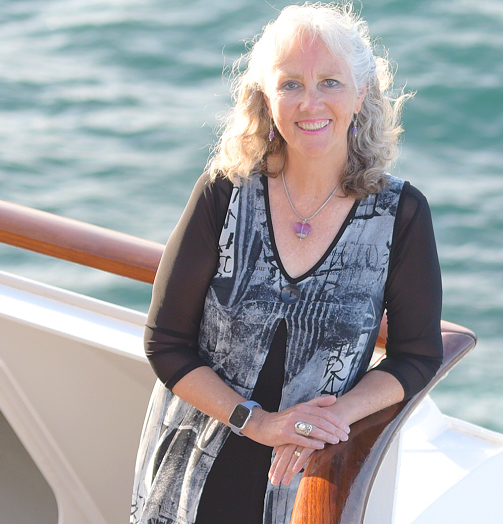 Hi, I'm Linda Gould
My friends called me Linderace when I was growing up because I loved to play boogie woogie as well as classical piano and I'll be your JAM session coach. I love teaching adults and teens to play piano using chords and improvisation.
I'm a mom and grandma and have been teaching, performing and composing for 4 decades. Look for my 4-volume course, Play Piano Chords Today included in your All Access Jam Bundle.
I hope you enjoy this experience, creating your own musical voice!
Frequently Asked Questions
Can I get a refund if I'm unhappy with my purchase?
YES, we want you to LOVE your piano experience.
If you don't, you will receive a refund.
Will the courses in my bundle change from time to time?
Yes. As new courses are uploaded, you will have access to them too 😎
When will I get my Zoom link for the next JAM?
Zoom links are emailed the Sunday before the Tuesday JAM.
Courses You Get ACCESS To
OK Jammers, here's your course selection.
The first course is the PIANO JAM HUB - this is where you find past LIVE JAM videos and Zoom links for the next JAM
The next course is the 'Course of the Month'. The one we are currently working on.
The next group of 3 courses is the PLAY PIANO CHORDS TODAY SERIES. Everything you need to become a good lead sheet reader and player
The next group are the WARM UP courses.
Followed by the TECHNIQUE courses
Followed by the PLAY WITH ME SERIES which are individual songs that you can learn to play
Finally there are a few extra courses with content that doesn't fit anywhere else :-)
Where Should I Start?  
1 - Click on the Piano JAM HUB Review the latest JAM video archived there.
Record any relevant tips in your Piano Journal and join us when you get the next JAM Zoom link.
2 - Cruise down the list to the WARM UP videos.
Choose the first one and repeat it for a couple of weeks or more and then switch to a different warm up.
3 - Find some music you like in the PLAY WITH ME series and work on 1-2 songs a month.
A little variety keeps it interesting and any more can be overwhelming.